Saint-Paul de Vence: a village where your investment will go further
Have you heard of Saint-Paul de Vence? It's a majestic medieval village that sits in an idyllic location atop a natural plateau, sandwiched between the southern Alps and the Mediterranean sea. However, even more so than its geography, it's the village's unique, artistic culture which captivates residents and visitors alike. It's a wholly enchanting place just waiting for the right person to take to one of its prestigious properties. Interested? Read on, because it's a village that you might soon call home.
Saint-Paul de Vence: a magnificent historic village
Although modestly-sized at just 7km², Saint-Paul boasts a colourful history dating back millennia that's anything but modest. In fact, we have to go back to Antiquity to find the first traces of this ancient town. The steep hills which lift the modern day village above its surroundings once provided the ancient settlement its natural defences. This security is what led the first tribes to build their village, known as an oppidum, atop the plateau de Puy. As the centuries passed, the few homesteads would grow into a bustling community, and in the 14th century, Saint-Paul found itself on the edge of France's medieval marches.
It was the Counts of Provence who went on to assume control of the village by plebiscite, recognising its political and strategic importance. As such, the imposing walls that still protect the Esperon tower and the Porte de Vence today can be traced back to this period of the village's history. Two centuries later, the village readied itself for conflict during the Italian Wars. Aware of the threat from abroad, King Francis I decided to turn Saint-Paul into a fortress, erecting immense defensive bastions around her, and it was this turbulent time to which the village owes its resolutely medieval character. Nevertheless, during the 17th and 18th centuries, much of the local architecture saw renovation and redecoration. The first major works started on the church of Saint-Paul, and then proceeded on to the other impressive town houses in the village.
Fast-forwarding to the early 1950s, Marius Issert (the erstwhile mayor of Saint-Paul) and his townsfolk would awake at the dawn's early light to visit the beaches of the village's neighbouring communities. Their aim? To collect pebbles from Villeneuve-Loubet and Cagnes-sur-Mer to adorn the streets of Saint-Paul. And, it's here that they remain, cutely decorating many of the village's streets – not least of all the rue Grande.
A village with a tantalising range of luxury properties
Saint-Paul de Vence doesn't lack for character, so it's no wonder that several luxury homes have cropped up in this town at the confluence of ancient military tradition and abundant natural beauty. Some of these properties boast a one-of-a-kind medieval charm, others are typically French countryside — rustic Provençal — and there are plenty of modern builds, too.
That said, however diverse these properties may be, they all share one thing in common: they are prestigious homes in incredible locations offering breathtaking views, all within touching distance of the village's most beautiful places.
Before being listed, properties in Saint-Paul are meticulously assessed on these characteristics and other criteria. With that in mind, you can be sure that all of these luxury homes are both comfortable and exceptionally well-furnished. So, if the prospect of purchasing a luxury villa in St Paul de Vence excites you, why not get in touch with John Taylor ?
A painter's paradise
Walking the cobbled streets of Saint-Paul de Vence will give you the impression of having wandered into a vast open-air museum. It's not uncommon to happen across colourful murals in unexpected places, and you'll frequently stop to gaze at paintings through workshop windows (or even as they're being painted on the street). It's not surprising, then, that Saint-Paul has been the home of several artistic movements since the 19th century.
It was the abundant natural beauty of the surroundings which first drew painters to the village in the 1920s. Its flower-lined hills, colourful cobblestones and clear view to where the sea and the horizon meet were all timeless scenes which were immortalised on canvas. The particularly radiant sunlight that shines upon the village has made it a painter's paradise, and it's no wonder that artists such as Paul Signac, Chaïm Soutine, Marc Chagall, Théo Tobiasse, Raoul Dufy and many others flocked here.
In fact, these particular artists would often stop by the Robison café, which is now the prestigious Colombe d'Or hotel. A visit here will reward anyone who steps through the hotel's doors with a gallery full of artworks signed by these artists. Even Matisse and Picasso, who also drew inspiration from Saint-Paul's beautiful scenery, have some of their works housed here.
The illustrious Maeght Foundation
A focal point for art and culture in the village, the Maeght foundation is the result of cooperation between famed art merchant Aimé Maeght and the many artists he befriended.
Maeght and his wife Marguerite consecrated a vast space for artistic expression in the village shortly after their son Bernard died of leukaemia. They entrusted the architect Josep Lluis Sert with designing the building, and invited their companions, all gifted artists, to fill it with various modern and contemporary artworks. Talents such as Joan Miro, Georges Braque, Balthus, Alberto Giacometti, Alexander Calder, Fernand Léger and Marc Chagall all contributed pieces to the Foundation, and their creative prowess is on full display here. Their works adorn the building's many halls, and even the building's exterior is an artwork in itself.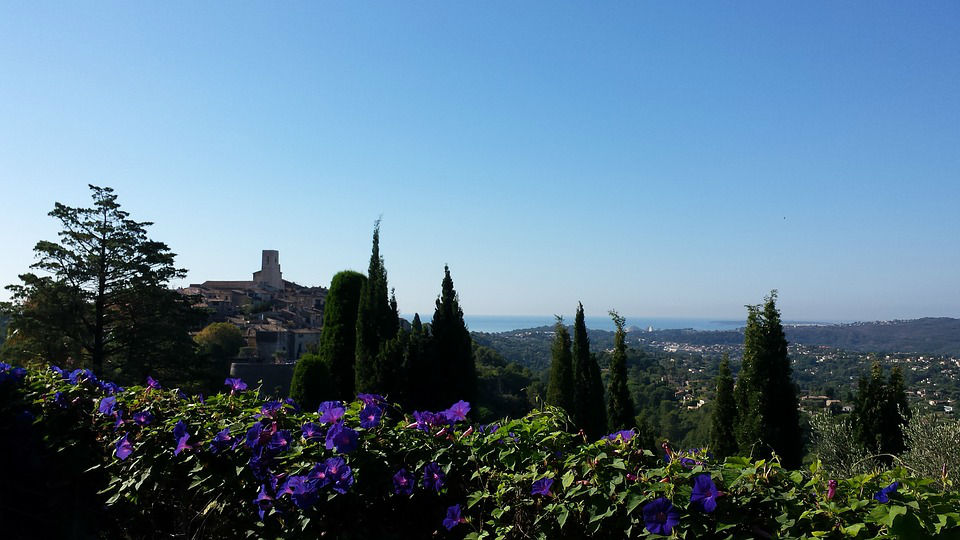 Although the names given to the different halls don't have anything to do with the collections on display within, they are an effective tribute to those artists who contributed to creating the Foundation, a space which has since been designated a 20th century national heritage site.
A place for poets, artists and actors
Once paint had been spilled in Saint-Paul, it was only a matter of time before artists of other stripes followed. Many who had initially come to the village for a brief holiday would eventually decide to call it home, and it's this cultural vibrancy that has attracted many investors to Saint-Paul since.
During the 1950s and 60s, film stars were the next breed of artists to descend upon this rural Provençal village. Whether they were headed for a shoot at the Victorine studios in Nice, or a red-carpet event on La Croisette in Cannes, they would never fail to stop off in Saint-Paul. It was here that Yves Montand and Simone Signoret, stars of French cinema, would tie the knot and put down roots for a good while, and
Jacques Prévert would eventually settle down in Saint-Paul de Vence, too. The village even tempted André Cayatte and Henri-Georges Clouzot to visit, and they found themselves bewitched by its medieval charms.
Other big names such as Mylène Farmer, André Verdet and Pierre Laffite can also trace a part of themselves to Saint-Paul. And yet, no matter how different these actors' backgrounds were, they were all drawn to this one small village whose stellar reputation preceded it. Once here, they, and many others, would fall in love with its natural surroundings, as well as its intriguing culture and history.
The writer, James Baldwin, lived here for nearly 20 years, and former racing driver, Paul Frère, made the village his home until his passing in 2008. That said, it's up to you to decide for yourself whether Saint-Paul deserves its reputation for attracting the elite (among many others, of course).
This charming village overlooking the Mediterranean is perfect for those seeking to express themselves, as well as those looking to live a simpler life, and its various luxury properties have been built and furnished with your happiness in mind. When you experience its blissful tranquillity, and marvel at its amazing views for yourself, you will understand why so many artists have chosen to call Saint-Paul home.